Please vote for Clinic Sofia!
04.28.2021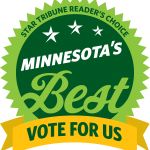 We were thrilled to learn that Clinic Sofia has been nominated as one of "Minnesota's Best," a list of area businesses, restaurants and cultural institutions that help people thrive in our state. We'd love to earn top billing in the categories of "Women's Health" and "Fertility Specialist" but we need your help! Please visit VoteMnBest.com and vote for Clinic Sofia in both categories. You can vote every day between now and May 21. Winners will be announced on the Minnesota's Best website and published in an all-new Minnesota's Best Magazine that will be inserted into the Star Tribune in August. Thank you for your support!
Read Dr. Clay's Foreword in New Book About Infertility
04.23.2021
We are so proud of Dr. David Clay who recently penned a heartfelt foreword for a book about infertility that happens to be co-authored by one of his patients. During National Infertility Week, we thought it was particularly fitting to share information about the book, "The Infertility Doula, a friendly guide for when it's hard to get pregnant," that is available for pre-order here as well as share Dr. Clay's foreword which talks about his own personal experience with infertility—from the perspective of the struggles he and his wife Nicole have endured on their path to become parents, as well as his experience as an OBGYN and being a part of so many other couples' journey. You can read it here.
Clay, Hammers and Stevens Named Rising Stars
03.19.2021
Clinic Sofia is proud to announce that Dr. David Clay, Dr. Amy Hammers and Dr. Erin Stevens have been named to Mpls/St. Paul's 2021 Top Doctors Rising Stars list. Each year the magazine celebrates a prestigious group of doctors who have been in practice for 10 years or less but are making names for themselves in their respective fields. Nominated by their peers in the medical communities, doctors on the Rising Stars List were selected based on their professional achievements and review by an expert panel. Check out the April issue of Mpls/St. Paul magazine for more information.
Clinic Sofia Visitor Policy Update
03.10.2021
Clinic Sofia remains committed to providing the safest environment possible for patients and staff. Thus, we will continue to conduct Covid screenings before each patient visit and require masking of all patients and visitors. However, we are updating our visitor policy to permit one support person over the age of 18 to accompany patients during appointments at both of our locations.  Please read the following for more information and don't hesitate to reach out with any questions you may have.
--We continue to prohibit anyone under the age of 18 at appointments, with the exception of post-partum appointments. For your post-partum appointment (up to 6-weeks post-partum), you are permitted to bring your infant with you to your appointment if childcare cannot be arranged.
--For patients with appointments at our Edina location, your support person may enter the clinic at the same time as you.
--For patients with appointments at our Maple Grove location, due to the size of our waiting room, please enter the clinic like normal to check in for your appointment, but have your support person wait in the car until your name is called by our Medical Assistant.  At that time, please call your support person to enter the clinic to accompany you to your visit.
Read about Dr. Stevens' book in Maple Grove Magazine
01.11.2021
We are so proud of Dr. Erin Stevens who wrote a book called "Unexpected: A Postpartum Survival Guide" last year. She was recently featured in the latest issue of Maple Grove magazine discussing some of the myths about the postpartum experience and sharing what new parents can expect, what questions to ask their doctor and more. She also outlines symptoms of postpartum mood disorder to watch for and when to seek out help. You can read about the article here.
Dr. Clay Talks to CCX Media about Pregnancy During the Pandemic
11.30.2020
CCX Media, Northwest Community Television serving the northwest suburbs of Minneapolis, recently talked to Dr. David Clay and one of our patients talking about what it's like to have a baby during the COVID-19 era.  You can see the story here.